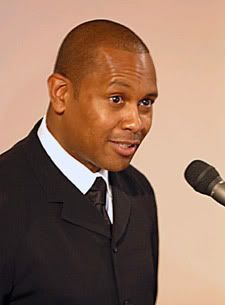 Activist/journalist/Democratic candidate for the 10 Congressional District Kevin Powell wrote about the Sean Bell verdict on the Huffington Post recently. The piece is a great example of the leadership potential Powell possesses. Yet another reason to see this Fall's elections as an opportunity for positive change:
Kevin Powell: The Sean Bell Tragedy: But I knew this verdict was coming. I have lived in New York City for nearly two decades and, before that, worked as a news reporter for several publications throughout the city's five boroughs, and I cannot begin to tell you how many cases of police brutality and police misconduct I covered or witnessed, more often than not a person of color on the receiving end: Eleanor Bumpurs. Michael Stewart…Amadou Diallo…Sean Bell.

This is not to suggest that all police officers are trigger-happy and inhumane, because I do not believe that. They have a difficult and important job, and many of them do that job well, and maintain outstanding relationships with our communities. I know officers like that. But what I am saying is that New York, America, this society as a whole, still views the lives of Black people, of Latino people, of people of color, of women, of poor or working-class people, as less than valuable. It does not matter that two of the three officers charged in the Sean Bell case were officers of color and one White. What matters is the mindset of racism that permeates the New York Police Department, and far too many police departments across America. Shooting in self-defense is one thing, but it is never okay to shoot first and ask questions later, not even if a police officer "feels" threatened, not even if the source of that "feeling" is a Black or Latino person.
It's Powell's final statement that sets him apart for the purveyors of hot button rhetoric who swarm around tragedies like this:
And a long as we have leadership, White leadership and Black leadership, mainstream leadership and grassroots leadership, that can do nothing more than exacerbate folks' very natural emotions in a tragedy like this, we will never progress as a human race. Instead a true leader needs to harness those emotions and turn them into action, as Dr. King did, as Gandhi did. In the absence of such action, so many of us, especially us Black and Latino males, will continue to have a very nervous relationship with the police, even the police of color, for fear that any of one of us could be the next Sean Bell.